Join us for a FREE Charitable Giving Seminar led by Attorney Jason Cohen!  The event will be held on July 21st at 1:00pm.
Location: 37 Bliss Memorial Road, Unionville or via Zoom
Cost:  Free
Presenter:  Attorney Jason Cohn from Drew & Cohen
Key Topics: Key industry trends, charitable giving options, estate planning & donor advised funds.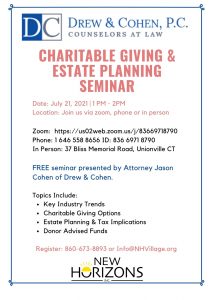 To Register:  860-673-8893 or Info@NHVillage.org