Join us for our 65th Annual Strawberry Festival

Live concert, food, and more!
Thursday, June 23, 2022 from 6:30pm – 8:30pm
The field next to the Farmington library
 6 Monteith Drive – Farmington, CT
---
ALL are WELCOME to JOIN US
64th STRAWBERRY FESTIVAL & SUMMER CONCERT
   Farmington High School "F" Field
Monteith Drive, Farmington, CT 06032    
NEW HORIZONS IS HOSTING A CONCERT FEATURING
MUSIC BY MASS-CONN-FUSION  &  La Cocina Dessert Van
THURSDAY, JUNE 17, 2021 – 6:30-8:30PM
---
New Horizons Strawberry Festival Concert 2020
---
WE HOPE YOU'LL JOIN US FOR SOME GREAT MUSIC!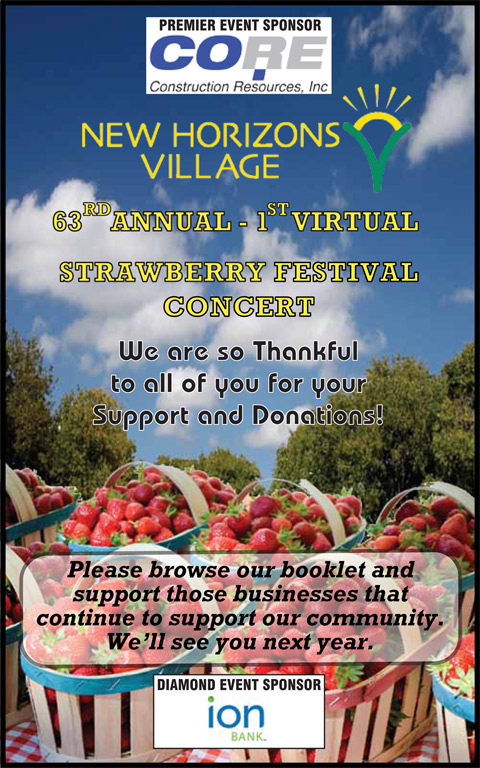 Many THANKS to Our Wonderful Sponsors
AND TO ALL OF YOU
Who Support Our
Community & Strawberry Festival
One of the highlights of the year at New Horizons Village is the Strawberry Festival and Concert.  The music is always fun and entertaining. Now in its 63rd year, the tradition lives on!  This a great community event and an important fundraiser as well.
Pictures from the 62nd Strawberry Festival held on June 16, 2019